Swiftech MCB-120 Rev 2 Radbox Radiator/fan housing - Black

Product Description & Info


The MCB-120 "Radbox" is an external radiator mounting kit for liquid cooled systems. This product is designed to install a 120mm radiator and fan externally to the computer chassis, using the existing 60mm, 80mm, 92mm, or 120mm fan mounting holes from the case. It comes with a custom pass-thru PCI bracket to route the tubing and fan connector through a PCI slot back into the case.

Functional convenience:

Bolt-on, plug-and-play installation.
Compatibility with an overwhelming majority of computer chassis featuring 60mm, 80mm, 92mm or 120mm fan mounting holes.
Multiple slots allow up to 3" of vertical travel, and 2" of lateral travel, providing ample adjustment combinations to eliminate interference with cables, power supply, and side panel.
Provides a simple mechanism for "hanging" even larger radiators to the back of the case.
Space savings compared to external water-cooling systems: the radiator assembly shares the "dead" space occupied by the wiring behind the case.
Reduces clutter inside of the chassis.

Specifications
Housing assembly dimensions: 5.125 x 5.125 x 1.360" (130x130x35mm)
Material: injection molded POM - Mechanically, the product is very sturdy thanks to the base plate featuring numerous reinforcement ribs. The MCB120 Rev2 "Radbox" can support single, dual or triple 120mm radiators.
Features: slotted holes allow installation to 60mm, 80mm, 92mm or 120mm fan holes
Up to 3" of vertical travel, and 2" of lateral travel with 80mm fan holes
Finish: silk-black paint
PCI Pass-thru kit:: custom PCI bracket with U-shape holes for tube pass-thru and slotted hole for electrical routing.
Conclusion:

A simple yet economical solution for power users in space constrained applications!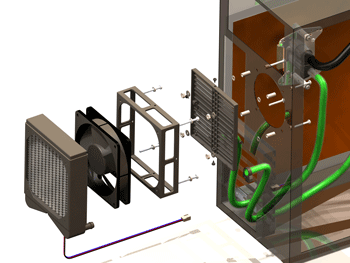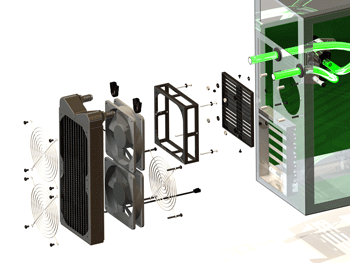 You are viewing Swiftech MCB-120 Rev 2 Radbox Radiator/fan housing - Black