Swiftech Extreme Flow MCP35X2 Dual 12v DC Pump (MCP35X2-WT)
Product Description & Info

The MCP35X2 is the dual motor version of Swiftech's flagship MCP35X pump. The product is designed to provide extreme flow rates in loops that include multiple devices, for example multiple radiators and triple or quad SLI/Crossfire liquid cooled graphics cards; pump redundancy also provides maximum safety in mission critical systems: if one pump fails, flow will continue to circulate thru the system thanks to the second pump. The unit features:
designed to provide considerably enhanced hydraulic performance;

compatible with multiple tubing options thanks to the G1/4 port standard;

compatible with the optional

MCP35X-Res

reservoir;

available in two colors; classic black or fashionable white

also sold separately, and compatible with all MCP35 series pumps

Two MCP35X pump motors:

12VDC and PWM controlled, allowing variable speed control thru the motherboard from 1300 to 4500 rpm, and linked with Swiftech's PWM splitter cable for simultaneous pump speed adjustements using only one PWM motherboard header.
Features & Benefits
Small Footprint: L4.9" x W2.8" x H1.6" (L126 x W72 x H41mm);

50,000 hours MTBF (Mean Time Between Failure) ;

12 Volts DC convenience: plugs into the computer power supply

Variable speed control via PWM thru the motherboard, from 1300 rpm for completely silent operation, to 4500 rpm for ultra high flow performance;

Simultaneous pump speed control using one PWM motherboard header is achieved using the included PWM splitter cable.

Superior head pressure and flow rate (in the useable range) to any pump in its footprint: the X2 features twice the head pressure as the MCP35X.

G1/4" ports standard for compatibility with a large assorment of fittings;

No maintenance when used with distilled water, and anti-fungal additives (our HydrX additive is recommended);

Quick installation with adhesive neoprene pad, or permanent installation with supplied hardware;

Optional "built-in" MCP35X-Res reservoir;

Ready for upcoming 5 1/4" bay reservoir solutions by Swiftech.

2 year warranty
Performance Charts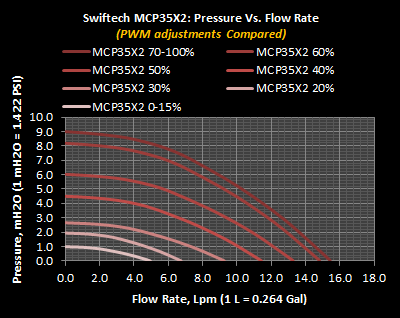 PQ Cuve at various speeds
PWM response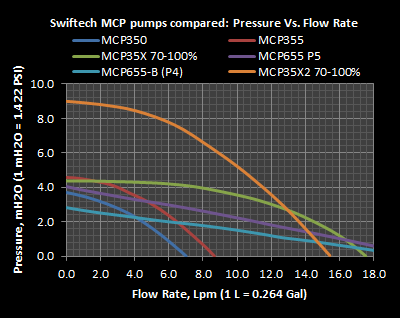 Comparative data against all Swiftech® pumps

Technical Specifications

Motor type 2x Electronically commutated, brushless DC, spherical motors Nominal voltage 12 V DC Operating voltage range 9 to 13.4 VDC Max. nominal power (@12 V) 18 W x 2 Max. nominal current (@12 V) 1.5 A x 2 Max. nominal head (@12 V) 27.9 ft (8.5m) Max nominal discharge (@12 V) ~ 4.17 GPM (15.8 LPM) Maximum pressure 22 PSI (1.5 BAR) Temperature range Up to 140 °F (60 °C) Electrical power connector 2x Molex 4 pin PWM + RPM Signals 2x 4-pin connector RoHS Compliant Port thread standard G1/4 MTBF 50,000 Hours Weight 15 oz Dimensions (not including fittings) L4.9" x W2.8" x H1.6" (L126 x W72 x H42mm)



Dimensions
You are viewing Swiftech Extreme Flow MCP35X2 Dual 12v DC Pump (MCP35X2-WT)