Swiftech Maelstrom 35X2 5.25in Dual Bay Res w/ Dual MCP35X Pump

Product Description & Info
The Swiftech Maelstrom 5 1/4" Dual Bay Reservoir is an advanced, versatile, and elegant coolant storage & recirculation system capable of operating either as a standalone unit, or with a single or a dual MCP35 class pump (MCP350, 355 or 35x).

The product is available in 5 versions:
With factory pre-installed MCP35X housing (no pump) for DIY upgrade purposes.

With factory pre-installed MCP35X2 housing (no pump) for DIY upgrade purposes.

With factory pre-installed dual PWM controlled MCP35X pumps.
Features & Benefits
Instant visualization of coolant level, cool factor:

---

Fits in two 5 1/4" Bays with or without the pump(s) installed

The image to the left shows the Maelstrom bay reservoir filled with various coolant colors.

Versatility, upgradability, extreme performance capability:

---

Modular design

The Maelstrom operates either in standalone mode, or with one or two built-in Swiftech MCP35x series pumps (MCP350, 355, or PWM controlled 35X) using an MCP35X-H (for single pump) or an MCP35X2-H (for dual pump) housing - All options are factory pre-installed.
---

Instant visualization of critical temperature data (*see notes below)

---

Coolant temperature display (in degrees Celsius)

Precise coolant level monitoring

---

Convenience & safety: Easy filling, no spills

---

Extra large fill-port opening with finger-grip ribs on the chrome plated brass cap

---

Reliable operations

---

Anti-vortex/anti-bubbles system

A tube surrounding the pump inlet features various size openings in its wall and prevents the formation of a vortex, and air entrainment in the loop

An open-cell sponge further traps micro-bubbles before their can re-enter the inlet

Performance, versatile loop configuration

---

Up to 3 return lines can be installed for loop parallelization.

Shown here with 3/4" compression fittings to illustrate compatibility

Cosmetic appeal: elegant and robust

---

Solid black-anodized aluminum face-plate with robust brass inserts for invisible fixation

---

Cosmetic appeal: light up the coolant, cool factor

---

Two pre-drilled holes for installing 3mm diodes

(1 UV-LED is included)

Compatibility with all existing G1/4 fittings (compression, etc..)

---

G1/4 port standard

Included 1/2" hose barbs & hose clamps

---

Bonus: reduced cost of ownership (not included by our competitors)
* Notes regarding coolant temperature data:

When assessing various component temperatures in a conventional (non-refrigerated) liquid cooling system, ambient air is the primary baseline from which everything else derives, i.e. no heat-generating component can ever be cooler than, or equal to ambient. The second temperature data that can also be considered as a baseline is the coolant temperature: it reflects the sum of the ambient air temperature plus the temperature resulting from the component(s) heat load multiplied by the thermal resistance factor (in layman terms the heat dissipation efficiency) of the entire loop.
Thus, monitoring the coolant temperature in a liquid cooling system is essential at two levels: 1/ as an absolute value, you can monitor the cooling system health and be visually alerted of potential issues (overheating), and 2/ as a relative value compared to that of the ambient air, it provides a meaningful indicator of the system thermal performance and in particular its ability to dissipate the heat generated by the components under load. In this respect, the following table may provide a general guideline to assess the thermal performance of your liquid cooling system; please note that audible noise considerations will dramatically affect the qualifiers listed below. In effect, the lower the noise requirements are relative to the heat load, and the higher the thermal efficiency demand will be placed upon the system.
| | |
| --- | --- |
| Coolant Temperature Minus Ambient Air temperature | System qualification |
| Less than 5°C | Extreme system |
| Comprised between 5°C and 10°C | Extreme to High-end system |
| Comprised between 10°C and 20°C | High-end to Mid-range system |
| Comprised between 20°C and 30°C | Mid-range to Entry-level system |
Performance Chart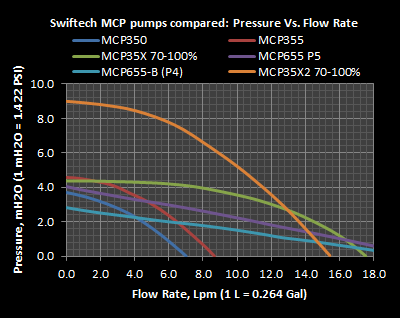 PQ Curves with MCP35X and MCP35X2, and comparative data against all Swiftech pumps
Specifications
Maelstrom Dual bay Reservoir (Standalone)

Material:

Face plate: Black anodized aluminum

Reservoir: Clear Acetal

Brackets: Nickel plated steel

Fill cap: chrome plated brass

Fittings: black painted (electrophoresis) brass

Pump inlet: Black POM

Dimensions:

Weight:

Coolant Capacity:
Temperature controller
LED

Optional Pump Housing installation details

MCP35X-H Housing

MCP35X2-H housing

Related product specifications

Precautions for use

The recommended coolant is Swiftech's HydrX or Hydrx PM. Swiftech's

product warranty

does not cover the use of 3rd-party coolants.

The use of coloring additives and/or UV dies containing particulate fillers may damage your pump bearing and may void your pump warranty.

The use of any additive or coolant containing alcohol is prohibited and dangerous: it will result in permanent damage to your acetal reservoir and may result in catastrophic leaks.